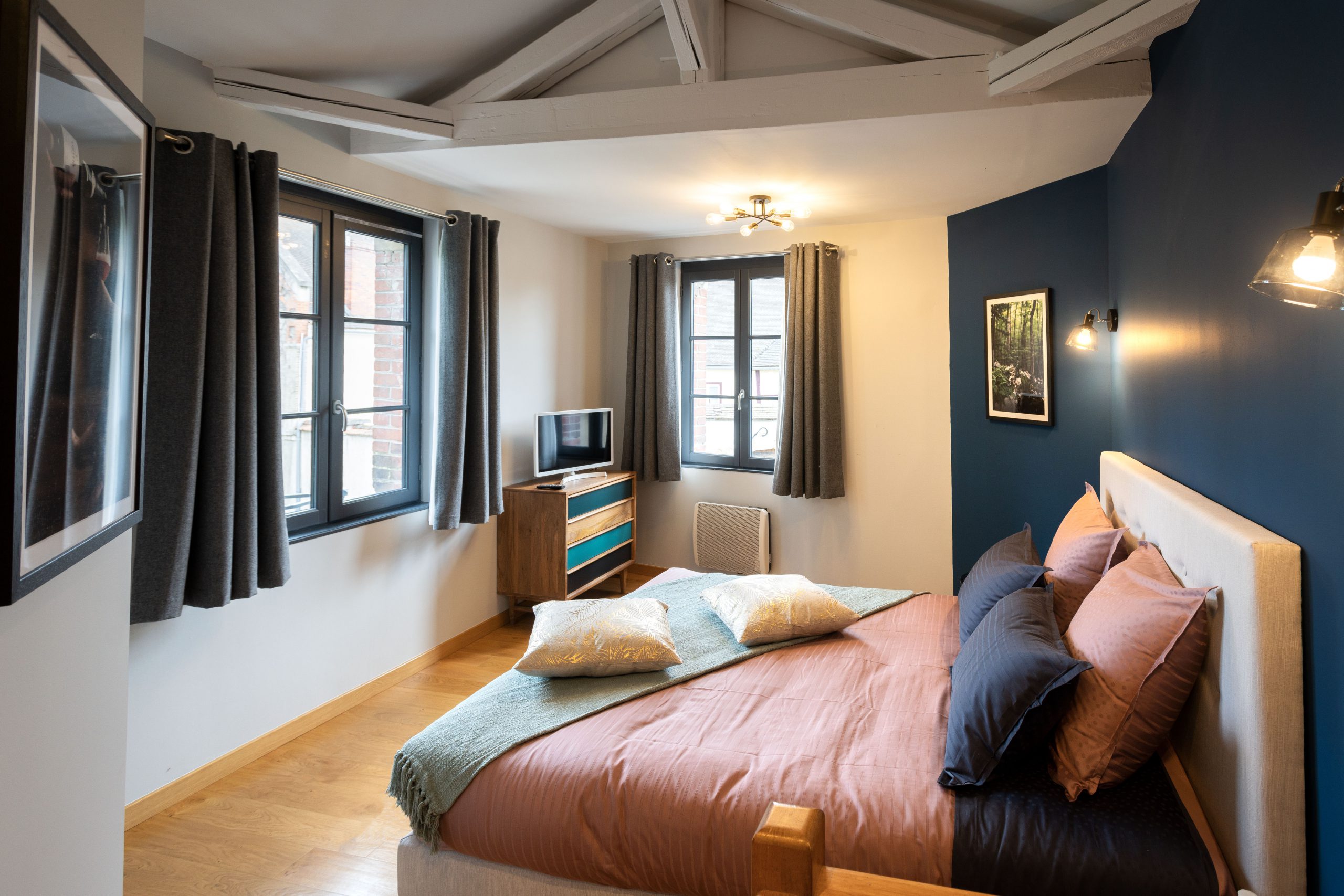 Your stay in the heart of Aÿ-Champagne at our luxury bed and breakfast
For your stay of a week or a weekend in Champagne, our luxury bed and breakfast in the heart of Aÿ-Champagne is open year-round. It is a charming bed and breakfast, ideally located whether for your business needs, or for a romantic getaway. By car, the bed and breakfast is 5 minutes from Epernay, and 35 minutes from Reims. Thus, to discover Champagne with its wine tourism activities, its excursions by bike, bus or hot air balloons, its cultural heritage, and its gastronomy, you will be very well situated.  Moreover, on the culinary side, reserve your table early enough, because restaurants are quickly fully booked. Our hospitality team is ready to offer you advice.
A charming bed and breakfast: the "Maisonnette" Collery
Combining refined design and authenticity, our former caretaker's house of 47 m² is transformed into a charming luxury bed and breakfast. Driven by our desire to share our know-how, and our passion for the region, we imagined this bed and breakfast with complete autonomy. It is located at the entrance of our private park, offering you total independence during your stay in Champagne. The architecture of the Maisonnette Collery is classically composed of bricks and stones with a slate roof in the Champagne tradition. As soon as  you arrive, in the alcove of these stones steeped in history, you will feel at home. And as soon as your suitcases are placed in this independent cocoon of Villa Collery, the windows will attract your curiosity, delighting you with the beauty of our park.
 Starting from 160€/night. A number of nights applies. 114€/night for a stay of 7 nights or more.
Via booking.com directly find the price adjustment for your stay.
For 2 people – Surface area: 47 m²
– Queen-size bed with high-end bedding – Room accessible by stairs.
– Independent kitchen and living room – View of the Villa Collery Park.

Washer/dryer
Dishwasher
Stove (cooking), oven, exhaust fan
Dual-functioning air conditioning
Service and equipment of our luxury bed and breakfast
To benefit from the best welcome, we recommend that you arrive between 16:00 and 19:00. When you arrive, outside of these hours, you may contact the Champagne reception located in the lobby from 9:00 to 12:00, and 13:30 to 18:00. 
A fully equipped kitchen on the ground floor
On the ground floor, for total autonomy, is a fully equipped and functional kitchen. You will be able to prepare great dishes thanks to our top quality equipment. It includes a cooking stove, with an exhaust fan, an oven, a microwave, a coffee maker, and a kettle, even a dishwasher. For your convenience, a washing machine and a dryer are at your disposal in the kitchen. 
The living room of the Collery bed and breakfast on the ground floor
Formerly a caretaker's house, today our charming bed and breakfast is bathed in an intimate atmosphere. Natural light enters through the windows and imbues the living room with extra soul. All the more appreciated when you are relaxing on the comfortable sofa, with a flute of Champagne Collery in your hand.
Breakfast at the bed and breakfast
In this comfortably equipped former caretaker's house, your stay is fully autonomous. In the morning, you are free to cook whatever you want. However, should you wish to book your continental breakfast with a savory flavor, it will be delivered to you at the time of your choosing for 32.00 euros (rate for 2 people) from 7:30 am.
Upstairs of the bed and breakfast: the bedroom and the shower room
The bedroom and shower room of this beautiful caretaker's house are located upstairs. The room has refined decoration with lots of serenity. The queen-size bed has high-end bedding. You will feel at home in this home away from home, equipped for a cocooning stay. It even has a flat screen TV, with access to 27 DTT channels. You have a shower room, and all bed linen and towels are provided with the necessary equipment for your comfort.
Pets not allowed
In our high-end bed and breakfast, animals are not accepted. Thank you for your understanding.
Free Wi-Fi
Free Wi-Fi is available for guests of the Collery bed and breakfast as well as in the park.
Non-smoker
Outdoor smoking areas are accessible 24 hours a day. However, it is forbidden to smoke in our bed and breakfast.
Access to Villa Collery's activities
Villa Collery brings together our activities and our wine tourism services, as well as accommodation with 4 guest rooms. The guests at the bed and breakfast have access to it only during the day.
Among the services offered in the lounge, in the cellar, on the terrace, and in the kitchen, you will have the opportunity to discover our history, our know-how and our philosophy of making our 100% Grand Cru champagnes. A private moment to enjoy learning about the history of Champagne Collery, revealing its secrets in a story marked by strong personalities, pioneers in the elaborating and sales of wines from Champagne.
The services of Aÿ-Champagne for your autonomy in our luxury bed and breakfast
Since 2016, Aÿ-Champagne is a new municipality that includes three cities: Aÿ; Bisseuil, and Mareuil-sur-Aÿ. During your stay, if you need to do some shopping, several shops are accessible within 5 minutes of walking from our bed and breakfast, including: a bakery, a delicatessen, a mini market, and a pharmacy. Furthermore, if you are looking for local producers to cook fresh produce, the Aÿ-Champagne market is on Friday mornings.
To know everything about the "Agéene" life (life in Aÿ-Champagne), and the preparation of your program for your stay in our luxury bed and breakfast in Champagne, our hospitality team is at your disposition.