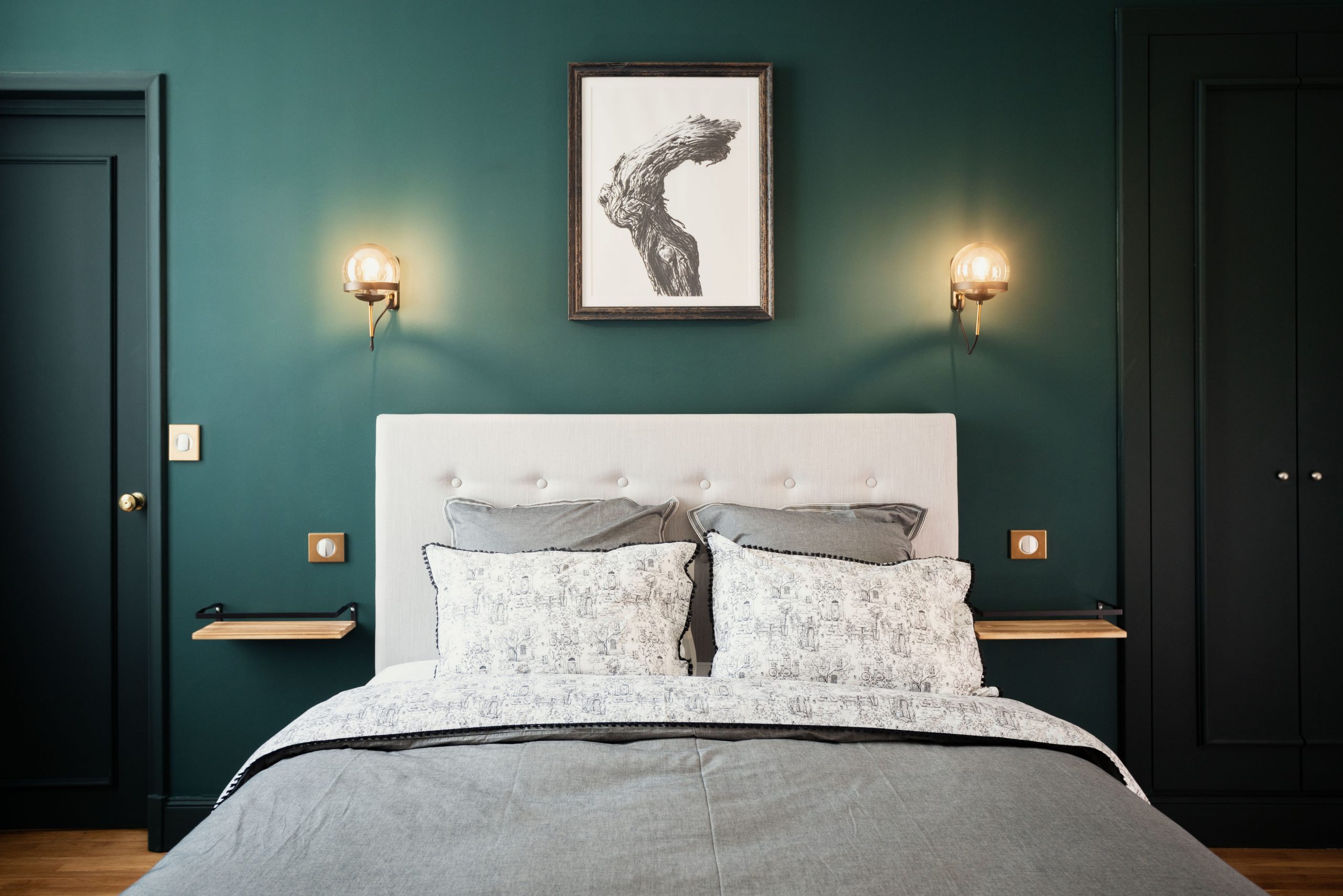 Aÿ-Champagne for your stay at the Villa Collery Bed and Breakfast: the English Cottage room
Champagne is a dream destination for a couple's getaway. Listed as a UNESCO World Heritage Site, it has exceptional abundance, and should absolutely be visited. The majesticness of the terroirs and its chalk cellars, the architecture of historical monuments, the local gastronomy, the luxury of the prestigious Champagne houses and the splendor of the cellars make the stay memorable. At Villa Collery, we too would like to share our passion and know-how of champagne elaboration. Therefore, we have created wine tasting workshops, and of other products from our terroir, so that our customers discover as much as possible, especially the secrets of Champagne that are so well hidden. During your stay in Aÿ-Champagne, for a night or a weekend, in the English Cottage guest room, you will enjoy the enchanting setting and comfort of our nineteenth century Champenois building.
The English Cottage room: a charming room with bath
The English Cottage room is located on the first floor of Villa Collery. This charming room offers 23 m², and its cottage style is subtle, with light colors and massive furniture. You will be welcomed with a glass of champagne in this bed and breakfast with a "so British" atmosphere. It is the interior designer Gaëlle Ducoisy who has created this warm and refined atmosphere. The main English green wall is warmed by the varnished wooden floor, infusing a cozy charm to this room where you immediately feel at home. Moreover, our English Cottage room is flooded with light coming from the bright courtyard, which diffuses a pleasant warmth that provides a feeling of well-being. Of our 4 charming guest rooms, our English Cottage room is the only one with a bath. In this way, you can run a good bath, accompanied by a flute of Collery champagne or a tea, since there is a tea/coffee making facility, in this room. This bathroom is private, a hairdryer is available.
Petit breakfast included – Room of 23 m2 located on the first floor, for two people
– Bed 160cm x 200cm – Courtyard view

Bathtub
Single basin
Toilet
Soft bath linen
Hairdryer
Hospitality products
TV
Wifi
A place of enchantment…
The hospitality team at your service
Our hospitality team welcomes you to Villa Collery between 16:00 and 19:00. Check out is no later than 10:00.
Free private parking and bike rack
Upon arrival, a free parking space is reserved for you and a bicycle rack is at your disposition.
Continental breakfast
Your continental breakfast with savory options is served on the ground floor, in the reception room, of our 19th century Champenois building, between 8:00 and 9:30. In case of any dietary requirements, please submit your specifications to our hospitality team so they may best accommodate your breakfast preparations.
Additional requests
Should you so desire, our hospitality team can order flowers or chocolates from local suppliers, even fruit for your English Cottage room. The prices of these supplements will be communicated to you on request.
Pets not allowed
Pets are not allowed in the guest rooms of Villa Collery. Thank you for your understanding.
Free Wi-Fi connection
Free Wi-Fi is available for guests of Villa Collery, in all guest rooms and in the park.
Non-smoker
All rooms at Villa Collery are non-smoking. However, outdoor smoking areas are available 24 hours a day on the lower terrace and on the rooftop.
Our rooftop with an extraordinary view of Epernay
Our rooftop is reserved only for guests of our four rooms: The Master Bedroom, Garden in the Country, Hemingway, and English Cottage. Thus, each of you will be able to enjoy a moment of relaxation and admire the extraordinary view of Epernay and the surrounding panorama. This unique moment, where you will be comfortably lying in our sunbathing, guarantees you a relaxing moment before leaving to discover our Champagne region.
During your stay, from Villa Collery cut across Champagne
Villa Collery immerses you with our know-how of the champagne method elaboration, and of local products from Champagne. We have created our tasting workshops to share with you all of the passion that drives us on a daily basis. The lounge of our Champenois building welcomes you in complete privacy, while the cellar will allow you to enjoy an oenological experience in a group setting. Guests of our bed and breakfast enjoy a preferential rate for Collery tastings. However, the many villages of our Champagne region also deserve to be visited. They will surely charm you with their narrow streets, and typical architecture composed of wood, stone, chalk, brick, and metal. In the same way, crisscrossing the expanses of the vineyards, by bike, on foot or by car, or even in the case of unusual methods of transportation, such as a hot air balloon or by double-decker bus, will certainly be an exceptional experience. Our hospitality team looks forward to helping you prepare the planning of your stay. The team is at your disposition to inform you of picturesque addresses, sensational walks, and talented chefs. Aÿ-Champagne is less than a 2 hour drive from Paris. So, if you dream of discovering Champagne for a day or a weekend by sharing unforgettable moments as a couple, our English Cottage room is for you.