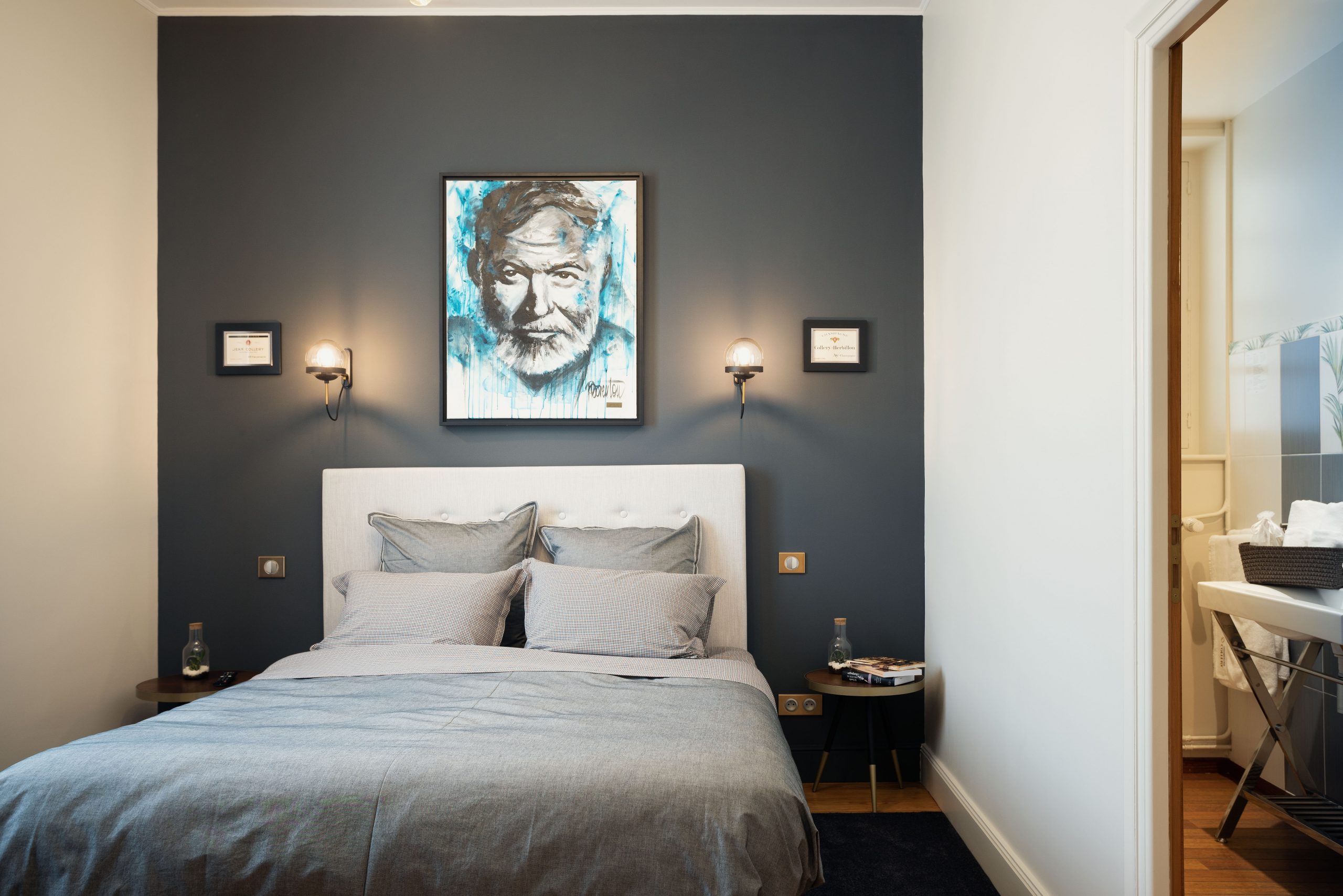 Your stay in a Bed and Breakfast in Aÿ-Champagne: the Hemingway room
Whether as a couple or on your own, enjoy staying in our villa Collery for a night or a weekend. A bed and breakfast accommodation in the heart of Aÿ. You will discover, in an enchanting setting, the comfort of our nineteenth century Champenois building. Renovated entirely with well-kept decoration, each of the 4 guest rooms offers a subtle setting inviting you to relax. The interior designer, Gaëlle Ducoisy, is at the origin of this very chic and cozy layout, favoring an atmosphere where you feel at home. During your stay in Champagne, in this peaceful setting, you will enjoy impeccable service in our Hemingway room. To help best organize your stay, our hospitality team is at your disposition, to accompany you with recommendations of what to discover: wine tasting workshops, visits, and making sure to book restaurants in advance. On the ground floor of our Champenois building is a lounge at your disposition, to enjoy tea or coffee.
The Hemingway room: a charming room with a cozy atmosphere
Our Hemingway Room is on the first floor, as are all of our guest rooms. This charming room of a little more modest size than the others offers 22 m². You will be welcomed with a glass of champagne. Whether you are alone or accompanied, the Art Deco notes, and the warm and cozy atmosphere will not go unnoticed. This room has all the charms of the past, with a subdued atmosphere inviting one to daydream. The varnished wooden floors, elephant grey walls and antique accessories give the impression that the famous writer Ernest Hemingway lived there. Besides, did he not say: "Wine is the most civilized thing in the world". No doubt he would have appreciated the comfort of this bed and breakfast, our villa Collery. The little something extra about this charming room is its view of the church of Saint-Brice d'Aÿ, with its Gothic style dating from the fifteenth century, and has been classified as a historical monument since 1942. For your well-being, this room features a private bathroom with a walk-in shower and hairdryer as well as tea/coffee making facilities.
Breakfast included – Room of 22 m2 located on the first floor, for two people
– Bed 160cm x 200cm – View of the church.

Shower
Single basin
Toilet
Soft bath linen
Hairdryer
Hospitality products
TV
Wifi
A place of enchantment…
All the information from our hospitality team for your stay
The hospitality team welcomes you to Villa Collery between 16:00 and 19:00. Check out is no later than 10:00.
Free private parking
Villa Collery and its hospitality team offer free parking and a bicycle rack.
Breakfast with savory offer
It is in the lounge on the ground floor of our nineteenth century Champenois building, that your breakfast continental with a savory selection is served between 8:00 and 9:30.
In case of any dietary requirements, our hospitality team welcomes this information so to adapt the breakfast offer to best suit your needs.
Special Requests
Make your stay at Collery even more unforgettable. Why not add flowers or chocolates, or even a fruit basket in your Hemingway room. Our hospitality team will take care of your special request by handling your order with our local partners. The rates of these surpluses will be communicated to you on request.
Pets not allowed
Thank you for your understanding. Pets are not allowed in the rooms.
Free Wi-Fi
You have free Wi-Fi in all rooms of Villa Collery and in our park.
Non-smoker
All rooms in our Collery accommodation are non-smoking. However, it is possible to smoke outdoors in our garden.
Our rooftop for an incredible panorama of Epernay
Exclusively reserved for guests of Villa Collery, our rooftop with an incredible panorama of Epernay is the ideal place to enjoy a relaxing moment of tranquility. Our hospitality team puts sunloungers at your disposition so that you may enjoy a beautifully radiant day. Thereby, relax, in this enchanting setting and take the time, before leaving to discover a wine tourism activity or a hike on the Champagne trails.
Your sparkling stay in the heart of Champagne know-how
Villa Collery  is located 4.3 km from Epernay Train Station and about thirty kilometers from Châlons-Vatry Airport and Reims. This chic and relaxed conception of wine tourism in a typical Champenois building, with workshops on wine tasting and the transmission of champagne know-how ensures you a sparkling stay. In addition to tasting workshops, Maison Collery has a champagne bar to enjoy champagnes, ratafias or Aÿ beers topped with aperitif food boards. Staying in the city of Aÿ, labeled "Small city of character", remains a charming and authentic step closer to discovering Champagne and its vineyards. Indeed, Aÿ is very accessible, from which one may easily discover the most prestigious Champagne Houses, enjoy exceptional walks accompanied by gourmet breaks to enjoy the local gastronomy, highlighting the local products of our terroir.